Submitting Electronic Medical Claims – A Step by Step Guide
November 18, 2020
Getting Started:
Go to https://www.seafarers.ca/resources/medical-plan-forms/ to print out the appropriate forms needed.
Fill out the forms with the appropriate information
Scanning using iPhone:
If you have an updated iPhone go to your 'notes' application
Create a new note and click on the camera icon then select 'Scan documents'
Once your medical form document is scanned, select 'save'
You will then see the image of your scanned document in your note. Hold-click on your image and select share and email your document to medical@seafarers.ca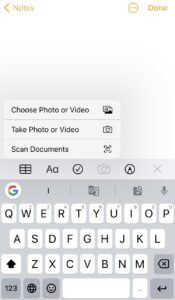 Scanning using other smartphones:
Take your completed medical form and place it on a well-lit surface
Open the 'camera' application on your smart phone and take a clear picture of your completed medical form.
Go to your photo library, select the picture of your medical form and email that to medical@seafarers.ca.
Alternatively, there are many applications that can be found in the app store or google play store that you can download to your smartphone and will allow you to scan your documents using your phone.
Scanning Documents using a Scanner:
If you are scanning from an HP Printer, you likely have the option to send your scan document directly to your email address;
Follow the steps in this video; https://www.youtube.com/watch?v=LmLxZGyrPwI
Alternatively…
If your scanner is connected to your computer, once you have scanned your medical forms, the copy of your scanned documents should pop up on your computer screen.
Save the scanned file somewhere you will remember.
Open a new email and attach the scanned file(s) and send email to medical@seafarers.ca