22 year-old Nicolas Smith shows us the next generation of Canadian seafarers are here to work hard and get their hands dirty
July 23, 2018
As one of the SIU's newest recruits, Nicolas Smith is setting an example of how today's youth can benefit from a career at sea. At only 22 years old, Nicolas completed his training at the Seafarers' Training Institute and became a seafarer in January of this year. While still new on the job, Nicolas knows that he will enjoy a long and successful career as a proud Canadian Seafarer.
When asked why he chose to become a seafarer, Nicolas says "I wanted to better my life and my future, achieve my goals with greatness in the long term. I took this step forward I love it." Last year, Nicholas attended the Seafarers' Training Institute's Unlicensed Apprentice (UA) program, an experience he calls "life changing."
At the Institute, Nicolas excelled in the UA program and was identified early on as his class Bosun – or leader in charge. "It was my job to keep 20 other students in line and in order all before 7 a.m. room inspection, class, colours, meals and head counts. This was exactly suitable for me and my abilities."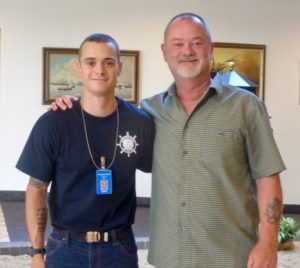 Nicolas officially joined the ranks of the Brothers and Sisters of the sea in January 2018 as an MA relief worker. While he's enjoying his time as a Mechanical Assistant, Nicolas aspires to become a certified electrician. As part of the SIU, Nicolas will have access to skills upgrading and training throughout his career.
The work is hard and sometimes the days can be long, but Nicolas says that his experience as a seafarer has been gratifying. While he acknowledges the job has its challenges – especially the travel away from home – he says the job is "amazing overall."  He adds that having his goals accomplished at such a young age is very rewarding. He knows his future is secure with good pay and stable employment.
For young people considering a seafaring career, Nicolas highly recommends they take control of their future and go for it. "Take that step forward and make your future, don't let it make you!" He also has some advice for anyone wanting to participate in the UA program, "As for new recruits training, I highly suggest if you want to succeed, stay focused on your path to a new life and just do what they ask of you. It's worth it."
Anyone who meets him can tell that Nicolas takes immense pride in his work, and will most certainly enjoy a long career at sea. His determination, work ethic and pride in everything he does, shows us that the next generation of Canadian seafarers are ready to work hard and get their hands dirty in the classroom, and on the job.