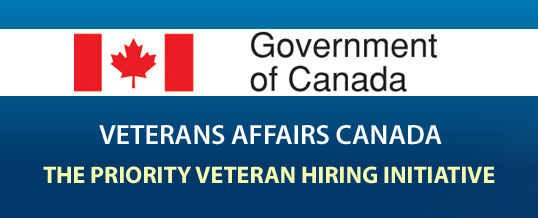 Seafarers' International Union of Canada Supports Veterans as They Transition to Civilian Life
S.I.U. and the Government of Canada join forces and focus on a Priority Veteran Hiring Initiative
Thorold, Ontario, Canada- July 23, 2014
Seafarers' International Union of Canada (S.I.U), the most important sailors' union in Canada, representing the majority of unlicensed and licensed sailors working aboard vessels across Canada, today announced that it has launched a new initiative that will focus on priority training and hiring for members of the Canadian Armed Forces as they transition from military to civilian life.
The Priority Veteran Hiring Initiative will create synergy and opportunities for both the shipping industry and Veterans Affairs Canada. By matching the skill sets, training and experience of the Canadian Armed Forces within the shipping industry, the S.I.U. is further investing in Canada's future by providing opportunities in the seafaring industry. "All of our partner companies, from coast to coast, support the initiative to recruit and train tomorrow's seafarers," said James Given, President, S.I.U. "With the valuable skill sets, ambition and dedication to the Canadian Flag that veterans bring to our industry, it is welcomed on all fronts".
"I am pleased that Seafarers' International Union of Canada is committed to helping our Veterans find opportunities that will utilize their skills and experience at sea. By doing this, Seafarers are affirming what we already know: Canada's men and women in uniform are skilled individuals, with the experience to be top notch employees," said The Honourable Julian Fantino, Minister of Veterans Affairs.
"Canadian Veterans are hardworking and dedicated individuals who can contribute immensely to our country's economic growth and prosperity. I'm confident this new partnership will lead to good things for both Veterans and the Seafarers'," said Parm Gill, Parliamentary Secretary to the Minister of Veterans Affairs.
"Our Government is committed to supporting Veterans and their families as they leave military service and become productive members of the civilian workforce. I applaud the Seafarers' International Union of Canada for having the insight to tap into this highly-skilled pool of talented individuals," said Rick Dykstra, Member of Parliament for St. Catharines and Parliamentary Secretary to the Minister of Canadian Heritage.
The S.I.U. looks forward to continuing its work with its partner companies and the Government of Canada in promoting this important initiative and providing opportunities for the men and women who have served in the Canadian Armed Forces.
About the Seafarers' International Union of Canada: A Sailors' Union by Sailors for the benefit of Sailors. The Seafarers' International Union of Canada has been serving unlicensed seafarers since 1938 and is affiliated with the Seafarers' International Union of North America, presently representing 60,000 unlicensed seafarers across the continent. The most important sailors' union in Canada, the Seafarers' International Union, better known as the S.I.U., represents the majority of unlicensed sailors working aboard vessels on the Great Lakes, the St. Lawrence River, on the East Coast and the West Coast and in the Arctic. In addition to vessels operated in Canadian waters, S.I.U. members also have the opportunity to work aboard vessels delivering cargoes in the United States, Europe and South America.
For more information please contact:
Verena Garofalo
Director, Marketing & Public Relations
Seafarers' International Union of Canada
T: 1-514-830-7391
E: vgarofalo@seafarers.ca
Share